The Temple Companies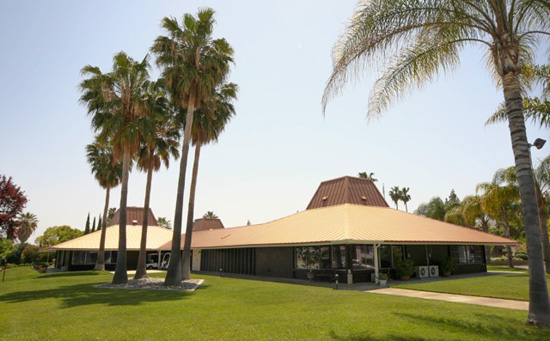 Since 1955, the family owned and operated Temple Companies have brought fine quality, affordable homes to families of all sizes and ages throughout the country. The family has developed, owned and managed more than 38 manufactured home communities with over 10,000 home sites nationwide.
The Temples are devoted to customer satisfaction and to offering quality home designs at the best possible prices. Reflecting this customer-driven approach, the Temples utilize consumer research, quality building methods, and superior service to provide the most value satisfaction for their customers.
The Temples take great pride in their premier manufactured housing communities. Each community offers buyers fresh designs, spacious layouts, price ranges that meet many lifestyles, and an array of attractive features that provide buyers the luxury of personalizing their homes. Located in California and New Jersey, Temple Communities are available on both coasts.
The Temples have designed their communities to provide tremendous curb appeal by offering gently curving streets, preserving an abundance of trees and positioning the homes for maximum effect. This unusual aspect, coupled with the family's commitment to customer satisfaction, provides homeowners with an incomparable housing value.
The Temples wealth of experience and dedication to excellence has earned the Temple Companies an outstanding reputation for providing exceptional homes and communities.
For the homes you'll love and the lifestyle you'll cherish, we welcome you to a New Way of Life.
Own Your Home, Lease Your Homesite
Manufactured homes, in private land lease communities, have become an increasingly popular choice for active adult living in the past several decades. During that time, the quality, beauty and technology of the homes, along with the amenities and activities available in the communities, have reached, and often surpassed the standards of their more traditional counterparts, while still offering the unparalleled savings and freedom of the land lease lifestyle.
Here's how it works. Instead of buying the land on which your home is sited, you lease your homesite within the community. Generally speaking, you have the same rights of enjoyment on your leased site as you would on an owned site, and you'll enjoy all the amenities, activities, and services of a conventional adult community, without paying any upfront property costs. You won't pay any real estate taxes on your leased homesite, nor will you be subject to any association fees. You simply pay one easy land lease fee each month with no additional property costs whatsoever.
You remain entitled to the lease of the homesite as long as you remain occupants, and you can sell or give your home to anybody you choose, as long as they meet any community age restriction criteria and are financially qualified by community management. The monthly lease fee is indexed for inflation each year, so you can rest assured that your lease fee will not outpace cost of living increases.
The many thousands of dollars saved by leasing your homesite can be invested, used for travel or luxuries, applied toward the cost of the new home, or put towards whatever use you value most.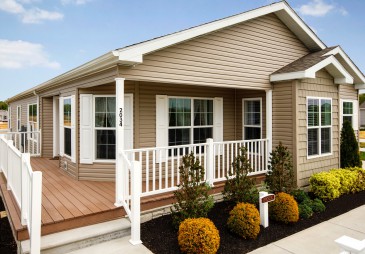 Community Life
Rustic Walking Paths, gently winding streets, and an abundance of trees define the typical Temple Community. Sparkling pools and expressive clubhouses create an environment for socializing and fun. Innovative home designs comprised of two or three bedrooms, space enhancing living and dining rooms, and attractive low maintenance exteriors define the residences within.
Visiting a Temple Community, you'll meet friendly residents out walking the dog, or enjoying a light stroll or energetic bicycle ride. Attentive on site management are available to assist you with your personal and social needs.
Monthly newsletters keep you up to date on the happenings about town, and our social coordinator is on hand to schedule local and regional excursions, as well as offer classes and crafts. Holiday parties and summer barbeques keep the community lively all year long, and active community watch groups look out for their neighbors.
You'll feel right at home in any Temple Community, come visit today. You'll be one step closer to your New Way of Life.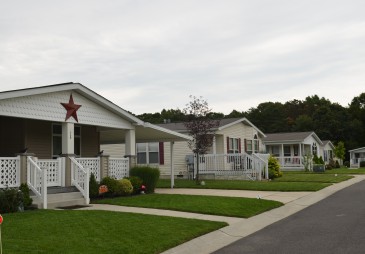 What Real Owners say About Us

In 2014 I bought my very first home, and I could not have been happier with my decision of location. Friendly Village has been the best place for me and I will be forever grateful for such a wonderful community and office staff. I will recommend Friendly Village to anyone, I love it so much.

~ Kaci, Summerfields Friendly Village

-Summerfields at Whiting has a theater group that stages plays and shows for residents and their guests in sold out show after sold out show. There are pool and bocce tournaments, and an outdoor pool right outside the clubhouse for staying cool all summer long!

~ Frank, Summerfields at Whiting

Moving to Delta Hawaii allowed me to continue living in the Bay Area and stay close to my grandchildren. The homes are great, the climate is wonderful and I'm close to everything including San Francisco.

~ Will, Delta Hawaii